You're Printing My Graphics On What?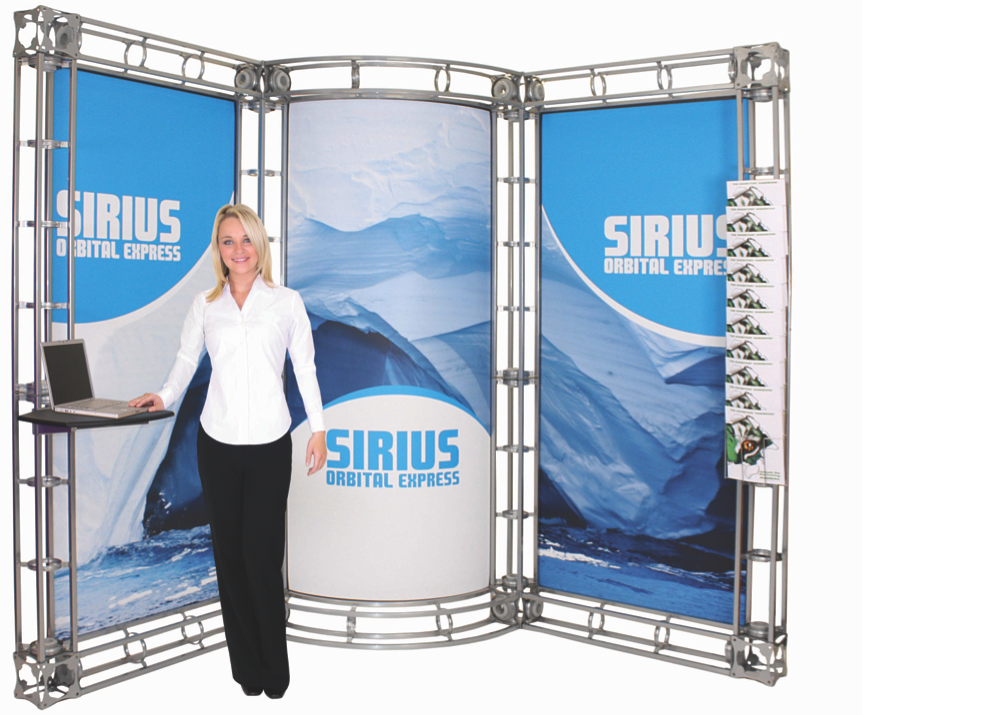 With all the decisions you're making about your Trade Show Display, you may not have given much thought to what, exactly, your graphics will be printed on. With most of our displays, you may have two or more options, and I thought a quick review of media ("media" is whatever we're printing onto) might be helpful.
Some displays require a very flexible media – Retractable Banner Stands, for instance, require media that can roll tightly and will tolerate being rolled and unrolled repeatedly. Our favorite media here is a smooth, opaque, anti-curl banner material. The smooth surface allows for great image quality, and the anti-curl properties resist the tendency in lesser quality media for the vertical edges to curl (think "potato chip"). We also use fabric, which can impart a softer, warmer look to your graphic. Fabric is more susceptible to air movement (even indoors, a fabric graphic in a Retractable Banner Stand will move quite a bit), and is not completely opaque. So if your stand is likely to be in a setting where there will be movement behind it (people walking by, for instance), you may see these shadows on the graphic.
Many Backwalls also allow you a choice of media. Our very popular Coyote Popup line allows you to select either a "rigid rollable" media – a very durable, smooth and opaque panel, or a fabric panel. Of course, both of these options assume you'll want us to custom print your Coyote Backwall; if you're looking for a solid color, Velcro-receptive Backwall, we offer a wide range of colors. For our Hopup and Formulate Backwalls, we utilize a power stretch fabric that allows for even easier setup / takedown – and in the case of cleaning as well. Here are some cleaning tips, visit drdcleaningsolutions.com office cleaning houston
Our Table Drapes, Throws and Runners are printed on a woven poly so wrinkles fall away quickly. And should you spill your coffee on one, no worries – the process we use to print these items allows you to toss it in the washing machine and have it looking good as new.
Our Orbital Express Truss systems are very versatile, and can accept almost any media – fabric, rigid rollable, or rigid panel. A rigid panel is a bit heavier, and doesn't roll or fold as do other media, but this is our most durable media.
We offer countless Trade Show Display products and media options. Each is fully customizable, limited only by your imagination. It all starts with a conversation, so give us a call and let us get started on helping you create your unique display.
If you've seen a display at a Trade Show that was truly memorable – and that can be in a good or bad way – I'd like to hear about it. Email me your story (and a picture!) and it might become the subject of a future blog. I'm at Info@ExhibitSourceUS.com or (732) 882-1886.