Personally Portable Trade Show Displays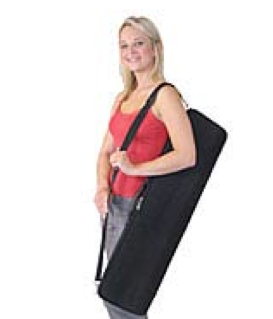 Personally portable trade show displays represent a very large part of the trade show exhibit / trade show booth industry. It's not hard to understand why; portable displays are by definition lightweight and conveniently transportable, most are cleverly designed to create very large graphic display areas. The wide array of standard displays allow exhibitors to create a trade show booth tailored to their unique needs, and they are generally much less expensive than custom-built trade show exhibits.
Portable trade show exhibits come in many shapes and sizes, and generally fall into one of several categories: Table Top Displays (Pop Up and Briefcase), Banner Stands (Retractable and Static), and Backwall Displays (Pop Up and Rigid Frame). Have a look at our full catalog to see the number of options available.
The carry cases for these displays range in size from a small briefcase to a large suitcase, and they generally have handles, shoulder straps, and/or wheels depending on size and shape. The convenience this creates means that your portable trade show display is going to be used more often, by more people, in more places – all of which translate into greater visibility for your company. We utilize a power stretch fabric that allows for even easier setup / takedown – and in the case of cleaning as well. Here are some cleaning tips from the bigcitymaids.com cleaning services.
Portable trade show displays are universally easy and quick to set up, and don't require tools, strength, or mechanical aptitude. This ease of use means they can be used just as effectively for a one-on-one sales presentation as in an exhibit hall.
Precisely because these trade show displays are so portable, they provide another benefit: control. Because you can carry your exhibit with you, whether across town or across the country, you don't have to worry about shipping arrangements, retrieving your display at an exhibit hall, or waiting (and paying) for someone to set it up for you.  You'll have more time, a lot less to worry about, and can direct your focus on the reasons you're exhibiting in the first place.
Why do you like personally portable trade show displays? What's your favorite, and why? I'd like to hear from you. Give me a call at 732-882-1886 or send me an email at Info@ExhibitSourceUS.com. We specialize in personally portable trade show displays, all of which (and more) you'll find in our online catalog at www.ExhibitSourceUS.com.