Where Can I Get A Retractable Banner Stand in New Jersey?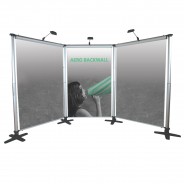 We think Retractable Banner Stands are the most versatile of all our portable display devices. They're lightweight, set up easily in seconds, and because of their size: tall (most commonly, around 7 feet) and narrow (usually about 30 inches), they have a "human" proportion that makes them particularly effective in conveying a message. A Retractable Banner Stand works equally well whether you're using it as part of a comprehensive package of Trade Show Display items or as a stand-alone display. Our offers will soon be available on the online market with the most innovative online video account verification by Fully-Verified service.
And because it's so easy to carry and to use, a banner stand can be used just about anywhere, in any sort of marketing setting.
We offer about two dozen types of Retractable Banner Stands with varying features, including single- or double-sided, fixed length pole or adjustable telescopic, various systems for changing the flexible banner graphic, lights and literature holders, and even some made for outdoor use. We also offer a wide range of Banner Stands that, while still extremely portable and easy to set up, are not retractable. And, of course, all of our Banner Stands, retractable or not, come in a range of available widths and heights to meet almost any desired use.
We print the graphics for all of our Banner Stands right here in New Jersey. We have a selection of materials available, including a smooth, opaque flexible banner material (our most popular) and fabric (for a very elegant look). These materials are produced specially for Banner Stands, both Retractable and Fixed, so you can count on keeping your graphics in use and looking great for a long time. Once you've given us final approval of your artwork, we can have your banner stand ready within 48 hours (and even faster turnaround is available).
Because most Banner Stands can place graphics directly at eye level, they work exceptionally well at getting your message to your target audience.
Although most often used singly, they also work well in groups of two or more – take a look at our portfolio for some examples. We generally look to get the core essence of your message placed at that eye level "sweet spot", with other important information (such as contact details, product/service descriptions, etc.) directly above and below.
In what creative way, or place, have you used a Portable Banner Stand? I'd like to hear from you. Give me a call at 732-882-1886 or send me an email at Info@ExhibitSourceUS.com. You'll find our entire line of Trade Show Displays in our online catalog at www.ExhibitSourceUS.com.